English guide through Burgholzhausen
Have you just moved to Friedrichsdorf-Burgholzhausen or are you coming for a visit? Anyway you found us: welcome in our little city!
Thanks for finding burgholzhausen-info.de, our local internet portal with news about the smallest district of the city of Friedrichsdorf. The event calendar shows regularily what's up in Burgholzhausen.
Since 1972 Burgholzhausen vor der Höhe belongs to the city of Friedrichsdorf not far from the Taunus hills. This was a time when a large reorganisation of all the cities and villages in entire Hessia occured. Before Burgholzhausen was  a small independent village on the border of the Wetterau. The telephone area code 06007 is a relict of that time, Friedrichsdorf has 06172 and the district of Köppern 06175. One of the specialities of Friedrichsdorf where by the way Philipp Reis indeed invented the telephone. About 3500 inhabitants live in the most beautiful district of Friedrichsdorf with its charming timber-framed houses close to both churches.
The protestant church is right opposite the old "city hall", we call it "Altes Rathaus". The old timber building was constructed in 1605, first as administrative office and school.  It is one of the oldest buildings that were left after a big fire. Nowadays, it became a place to meet, where classical music events "miniature" have made a name thoughout in the entire Rhein-Main region. Once a month sundays a little café opens and, of course, local associations meet here as well as the local political council. If you are planning a wedding, you can do the ceremony in the wonderful atmosphere of the Altes Rathaus.
Unusual enough that a small village like Burgholzhausen has two churches, a protestant and a catholic. Notable is that they are also about the same age. Over 300 years ago builder Johann Wilhelm Dettler from a neighbour village designed and constructed them. His name you still see over the entrance of the protestant church. Both you need to visit as they have very special characters inside. Whereas the protestant church stayed simple but has unique colourful pictures on the gallery. The catholic church is in baroque style and reminds of Bavarian churches. The story of the churches over the centuries are closely linked to the history of Burgholzhausen or Holzhausen, as it was formerly called. If you want to hear more about it, visit the occasional guided tours offered or contact the local churches.
Burgholzhausen was first noted in old documents in 1222, although it is much older for sure. There are challenges with the old calendars, so actually the original document dates back to 1221. Due to the pandemic, celebrations of the jubilee are in 2023 all over the year. Big jubilee weekend was from June 16 – 18, 2023. If you want to see more the events still to come this year, visit the site "800" on this internet page. Impressions of the jubilee weekend can be found here.
If you are interested more in the history, booklets are available in German language about the rich history of Burgholzhausen and all other districts at the frontdesk of the Friedrichsdorf town hall. There you can get also special souvenirs of Friedrichsdorf.
With respect to the 800 year jubilee a brand new book about the history of the village was published with many pictures and interesting background stories.
---
Burgholzhausen for and with Kids
Young families find two kindergardens, "Kinderburg Burgholzhausen" and "Burgholzhäuser Spatzennest", and a primary school in Burgholzhausen, all in walking distance. For elder children, the Philipp-Reis-Schule is only about 1,5 km and public school transports are available. Burgholzhausen is rich in associations: sports clubs, football, tennis, pickleball and many more sports are offered by the local sports club. The choir "La Cappella Ensembles" is famous  and offers groups for several ages. But also other associations like the local fire brigade offer special programs for kids. A public sports area called "Sportpark" is only about 1,5 km away and easy to reach by bicycle or bus. The Friedrichsdorf Youth Office comes regularily to each district in Friedrichsdorf with a mobile called "Friedzbox". Special programs or just "meet and greets" are offered to the youth.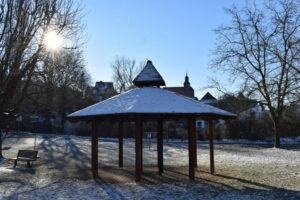 Several public playgrounds can be found everywhere in Burgholzhausen, the biggest is centrally at the end of the little road "Oberberg" in the middle of the "old town". The kids can enjoy the football area, swings and several climbing tools directly at the border of the local creak "Erlenbach". Also a small pond is in the back surrounded by woods where you can discover even turtles if you are lucky and patient enough.
---
Shopping in Burgholzhausen
All what is essential for living you find locally in Burgholzhausen.
Butcher "Landmetzgerei Kempf", a postal office with supplementary offers for stationary "Easy Postshop" and the "Reinhardshof" offers fresh vegetable, fruit, meat and more in the farm shop. A 24/7 milkshop is open at the Dairy Farm Wien. Beverages you find at August Wehrheim Getränkehandel. The local supermarket "Netto" offers all your other needs of daily alimentaries. Best flowers as presents or for your garden you get from Elke at the "Blumeneck". Other presents or decorations in "Inges Laden – Schenken und Wohnen". Five hair dressers in Burgholzhausen help you to look faboulous! You have the choice.
Get a current list of Burgholzhausen shops
Restaurants
Two Italian restaurants "Pizzeria Amico" and "Pizzeria Da Santo" offer various choices of pizza, pasta, meat and fish.
"Welter 1908" is a Straußwirtschaft with a marvellous court to sit outside and a beautiful restored restaurant in the old barn of the old farm house right in the middle of the old town of Burgholzhausen. A "Straußwirtschaft" opens only for a period of time in summer and offers local specialities. Specially the homemade cider is a must, but the choice of wine is also recommendable.
Go out at night just for a drink and meet some locals? Then you are right at "Merlins". You can sit at the bar and have a chat with owner Dany or other visitors or play a round darts.
Get a current list of restaurants
---
Medical Help
GP Dr. med. Peter Lauffer, and dentist Silvia Franke-Beichert are stationed in Burgholzhausen.
In case of medical emergencies dial 116 117 or the central emergency number of fire brigade 112.
Waste handling
If you live in Burgholzhausen or have been in Germany, you know that all waste in a household gets separated to be recyled. Each house has several garbage cans where the different covers help to differentiate the content to fill into.
brown: organic waste
grey: residual waste
yellow: plastics, tins and packages marked with the sign "Grüner Punkt". You can get free yellow bags at the stationary shops also and place them outside
blue: paper
Garden waste is collected once per month.
For bulky waste you can call the phone number on the "Müllkalender" or send an email. You will get a date when it will be picked up.
The pick up dates you find in the "Müllkalender". Burgholzhausen is tour 11. The calendar can be obtained in a print version, online or you can use a garbage app.
Friedrichsdorf has a recycling center, Marie-Curie-Straße 6, from Burgholzhausen just over the Autobahn and then you find it on the left side. During the opening hours you can bring garden waste  free of charge, bulky waste, electric appliances, quite everything else you will need to pay a small fee. Every first Saturday per month, dangerous wastes like old colours or any harzardous substances are taken. New in 2023: the mobile dangerous waste mobile comes to Burgholzhausen. Dates are on the "Müllkalender", printed version or on the webpage here.
If you have any questions, you can call the Friedrichsdorf city administration at 06172/731-0.
View Burgholzhausen garbage pick up calendar and more
---
You want to know more?
Make a virtual visit of Burgholzhausen on our youtube channel. In about 10 minutes you see the hotspots!
If you like this page, visit us on Facebook or Instagram or write us an e-mail to info.burgholzhausen@gmail.com. We'll love to hear from you and would like to know if you found this information useful and where you come from.